Perfect Grade
RX-78-2
Gundam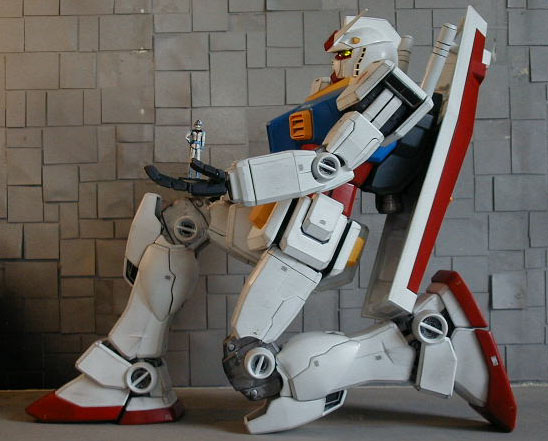 Here is the overview of the Perfect Grade RX-78 Gundam
You can view more detailed areas by clicking on the various components below.
Click on the Kit Bash! logo to return to the index.
The Perfect Grade Gundam is almost that, perfect. The major alteration I made was lighting the coreblock.
Beyond that I tried to add as much detail as possible to increase the realism. I didn't use all of the decals provided
with the model as I felt the excessive about of decals made it look more like an Indy Pace Car than a Mobile Suit.
The entire model was airbrushed to give an even finish. I used Tamiya flat white and flat red. For the 'Gundam Blue'
I mixed 50% Gunze Sanyo flat white with 50% Gunze Sanya Bright Blue. For the yellow I used Model Master 'Insignia Yellow'.
For the interior mechanisms I used Tamiya silver with a custom 20% Tamiya flat black, 50% Black India Ink, and 30% water
'wash' to bring out the detail. On the outside armor I used black oil pastel to enhance the edges and bring variations in color to the larger areas.
After complete assembly I used Armory Flat clear to seel in all the detail and help protect the finish.
The inscale Pilot figure came from the original 1979 1/60 Gundam.
Click on a smaller picture to see a larger version.