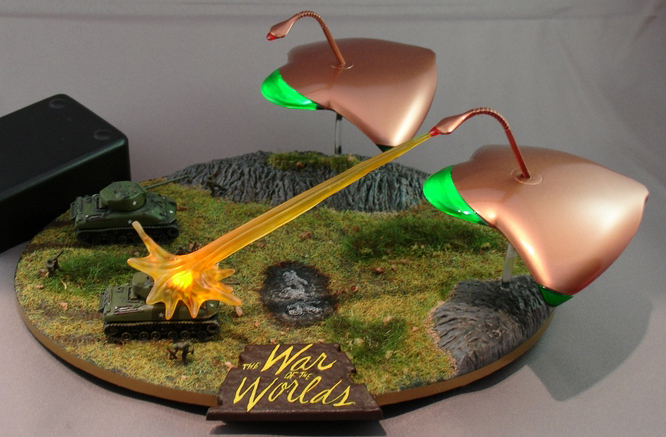 Paint used:
-War Machines: Alclad Copper, Tamiya Clean Green
-Tanks and Soldiers: Mr Color various dark greens and browns


Ground work:
-Black primer with Tamiya tan accent.
-Games Work Shop various greens and browns, Games Workshop brown ink.
-Ground flocking is a combo of Games Work Shop and Woodland Scenics components.


This is the Pegasus Hobbies, 1/144 scale War of the Worlds diorama kit. This kit represent a couple first for me; 1st time in 30 years of modeling to build a tank of any kind, 1st time doing any serious ground work (thanks to Greg for teaching me new techniques), and 1st diorama to include lighting. The kit went together pretty easy. My only real disappointment is the clear parts on the war machines do NOT fit to the bodies. Unfortunately I didn't find this out until it was too late. Also the Alclad Copper seems to be a litteral dust magnet. I dusted the War Machines clean before photographing and dust still gathered on them while I was photographing :( Also thanks to Eric K. for point out 1/144 WW2 troups. These were sold seperately by Pegasus. I repainted them and added 4 to the diorama. I think they really add a sense of scale.