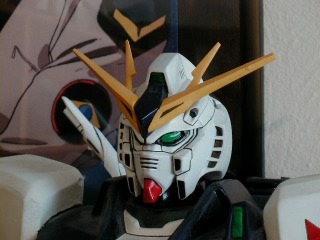 Close Up
I bought this fixed pose vinyl kit by 'Jumbo Machinder' in 1987. But didn't
build it until recently. I spray painted the white body then hand brushed the rest
using tamiya and gunze sanyo paint. The head antenna was missing so i scratch built the one shown above with sheet styrene and testors white putty.
It's not posable, but it is over 52cm. tall! -Though the instructions and box say '1/33' at a little over 52cm. the piece would actually be 1/44 scale.