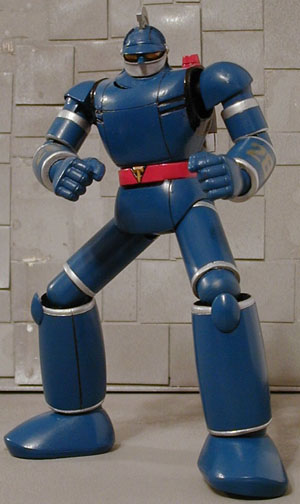 This started out as an experiment to see if an 'action frame' could be transplanted into an older model kit to breath new levels of flexability into a much older design. I got the idea after viewing the pictures of the MC Getter-1 on Will's Mecha Depot. Since this was an experiment I wanted it to be small and affordable, so I purchased an MC Getter-1 that I found on clearance for half the yen price and pulled out a 1980's era Tetsujin model.
The old tetsujin model had only plastic on plastic joints and was mostly hollow making it a good subject for the experiment. The old model had less than 10 degrees of movement on most joints and no rotation on any of the limbs. In addition to the frame, I also used the feet, hands, and upper arms from the MC kit. Everything else you see on the model came from the old 80's era Tetsujin kit. The MC kit also posed another challenge -the rubber feet and hands where cast in red. Fortunately Gunze Lacquer bonded rather well to the rubber parts. I ended up using Gunze Lacquers on the entire kit.
To mount the old armor parts to the new frame, I used Milliput Epoxy putty (see the brown putty in the preassembly pic below). Also, I split the original torso at the waste alowing the upper chest to rotate on the MC frames ball joint. I left the upper leg armor, shoulder armor, and lower torso armor unattached to the frame. The pieces now fall into place as needed when the figure is posed giving a very natural look to the kit.
---
Click on smaller images below to enlarge.